---
Our Ready-Made Wedding Collection pieces were created in our signature styles, for the couple who would like to work one-on-one with us, but are more cost-friendly and convenient than booking our Semi-Custom or Custom Design service.
Whether you prefer to choose your design and colors yourself, or have us curate a set of options especially for you, we'll work closely to make sure that the tone of your event is reflected through the carefully chosen colors and materials of your paper goods.
1. ORDER
Explore our Ready-Made Collections and select the Collection which speaks to you and your aesthetic the most. Add pieces and embellishments to your cart to complete your suite.
Within 15 minutes after placing your order, you will receive an email with next steps.
We recommend placing Save-the-Date, Invitation Suite, and Day-of Stationery orders separately, so that they can ship separately (for example: order all pieces for your invitation suite and embellishments together, and place your order for day-of stationery separately).
By placing your Ready-Made Collection order on our website, you confirm that you have read and agreed to these terms and conditions.
2. DESIGN (1 WEEK)
We will email a PDF proof to the email used at checkout within 5 business days (after receiving your complete and final wording content).
This PDF will include a mock-up of your full design with all colors, wording, and embellishments so that you can better envision the final product and how everything will come together.
3. REVISIONS (1 WEEK)
After reviewing your first proof, you can choose to make changes, or approve your design and send everything into production.
Your order includes one full round of revisions to your wording and colors only (no layout or font changes can be made at this time), so please review your proof carefully and share it with anyone assisting with your wedding planning, so that you can send us a full list of changes in the form provided to you with your proof.
Please allow 2-3 business days for a revised proof. Additional changes beyond this round will incur an Additional Proof fee.
4. PRODUCTION (2-4 WEEKS)
Once your proof has been approved, we will send everything into production. Nothing will be printed without this final approval.
Please allow 2-4 weeks for production.
Please note that if your order contains items with a longer turnaround time, or if you require more time to approve your proof, then your entire order will be held until they can ship together.

This guide is just an overview of the average timeline and ordering process. For more information on our most up-to-date turnaround times, please visit this page.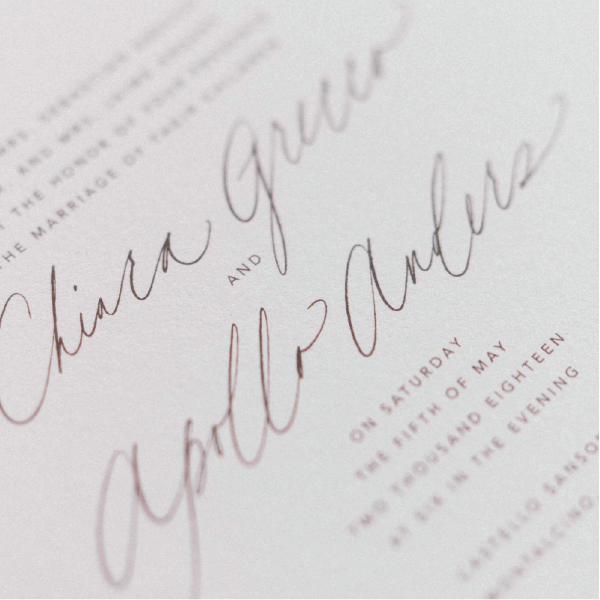 DIGITAL PRINT FINISH
Digital printing takes a digital image and transfers it to paper, creating a smooth image with no impressions or raised text. No special plate is needed (unlike letterpress or foil) so this is our more affordable option for printing.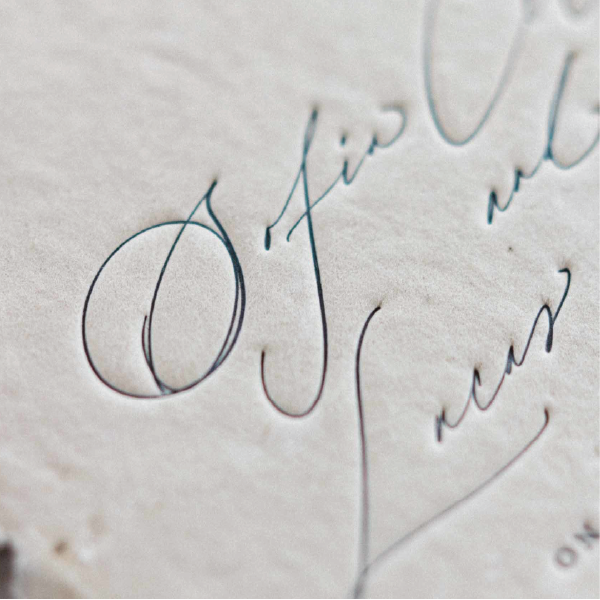 LETTERPRESS PRINT FINISH
Letterpress is a printing technique in which a raised plate of your design is inked and pressed into paper. Each sheet is fed individually through our 112 year-old antique printing press, leaving a deep, tactile impression.
FOIL PRINT FINISH
An opaque metallic foil is sandwiched between paper and a copper plate with your raised design. Each sheet is fed individually through a pressurized printing press, leaving a subtle impression, with a high shine.
ENVELOPE COLORS
Our wide range of euro-flap envelope options can be mix-and-matched in an unlimited number of ways. We offer digital color ink for our lighter envelope colors, and digital white ink for our dark envelope colors, in order to provide maximum contrast of the text against the envelope color for mailing.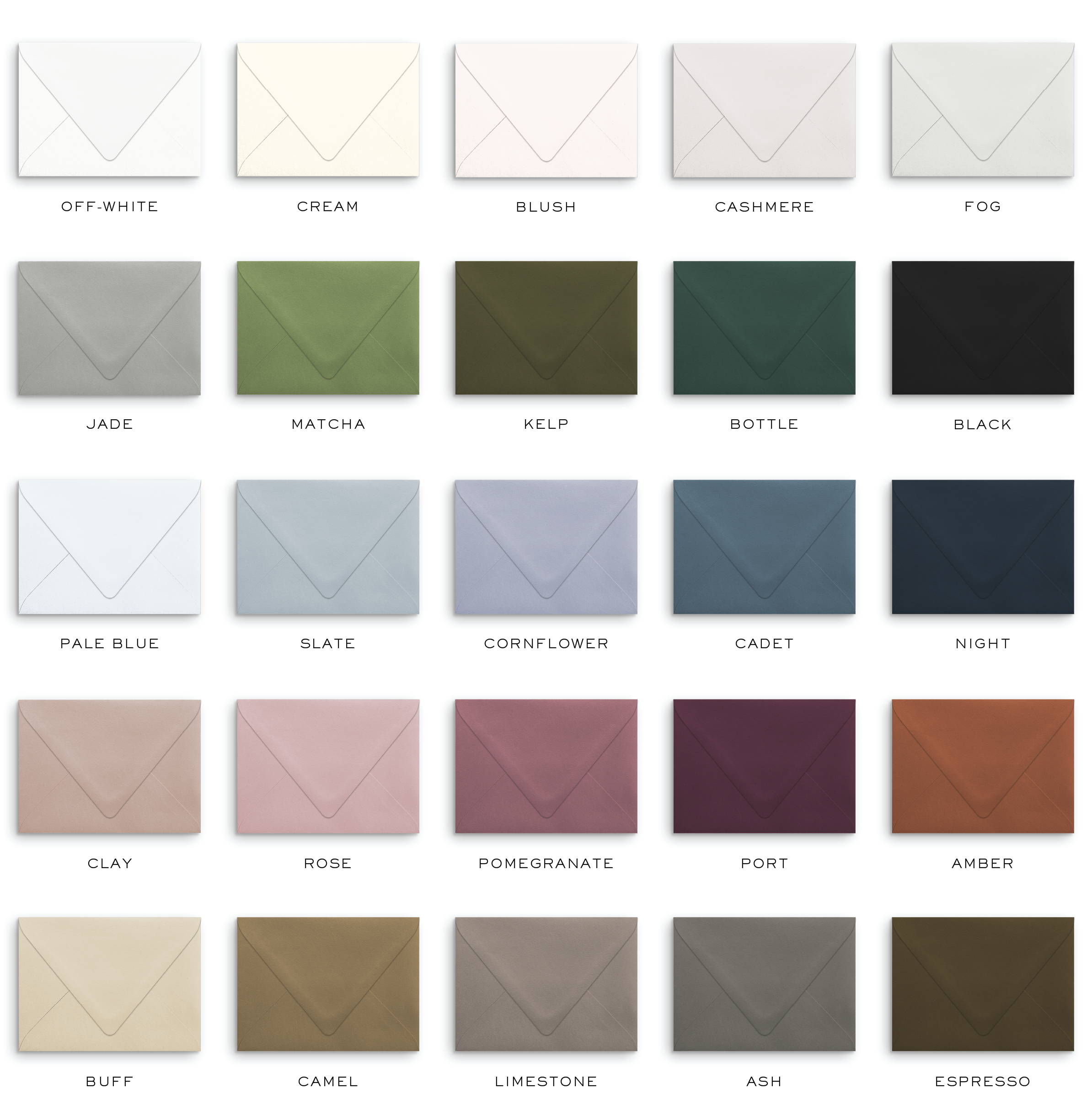 CARDSTOCK COLORS
We offer our Standard Off-White and Cream Cardstocks in both single-thick and double-thick weights.
*Colored Cardstocks only available for certain pieces and with specific print methods. Please refer to the product listing for more information.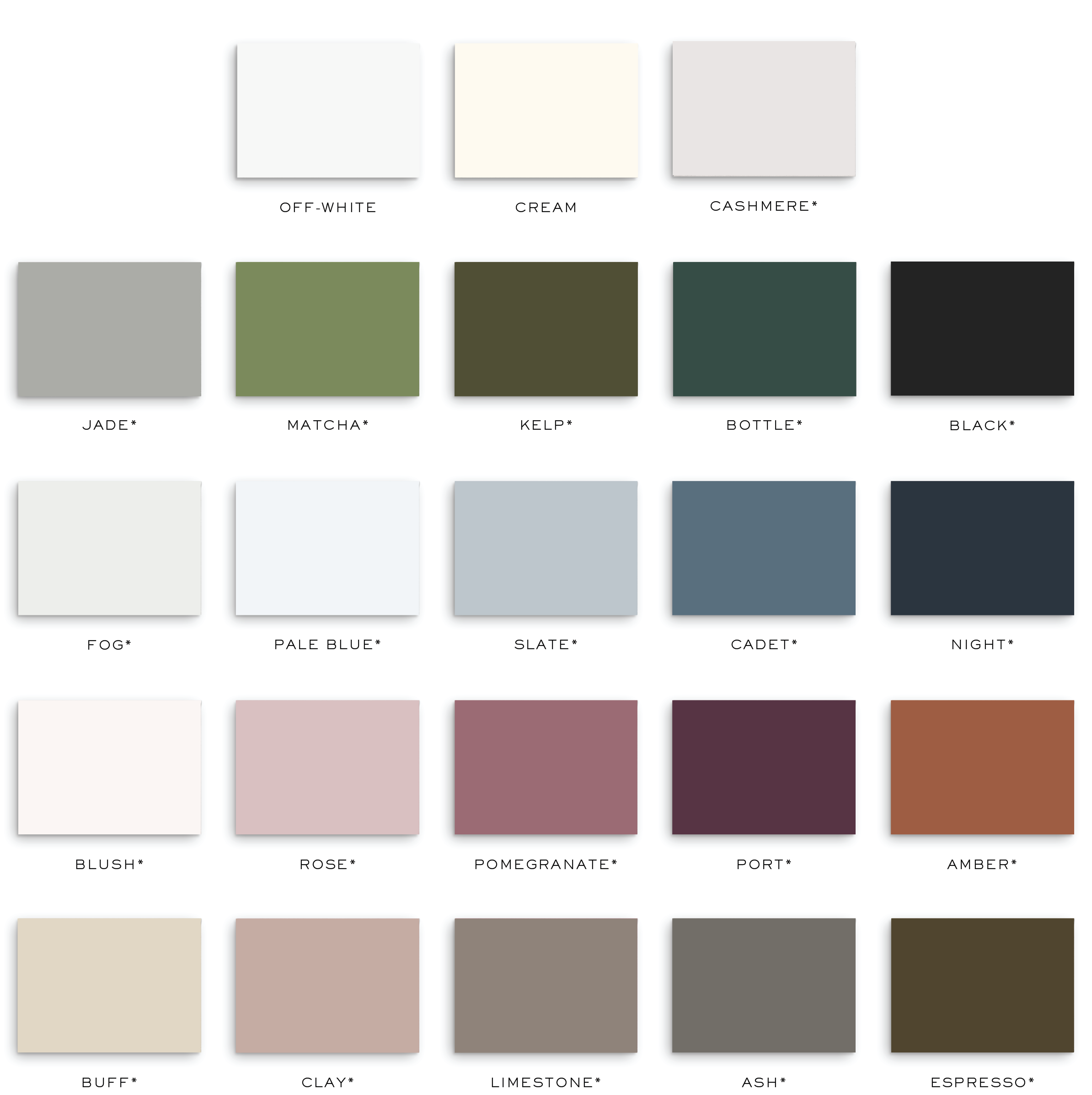 DIGITAL/LETTERPRESS INK COLORS
*Light colors only available for Letterpress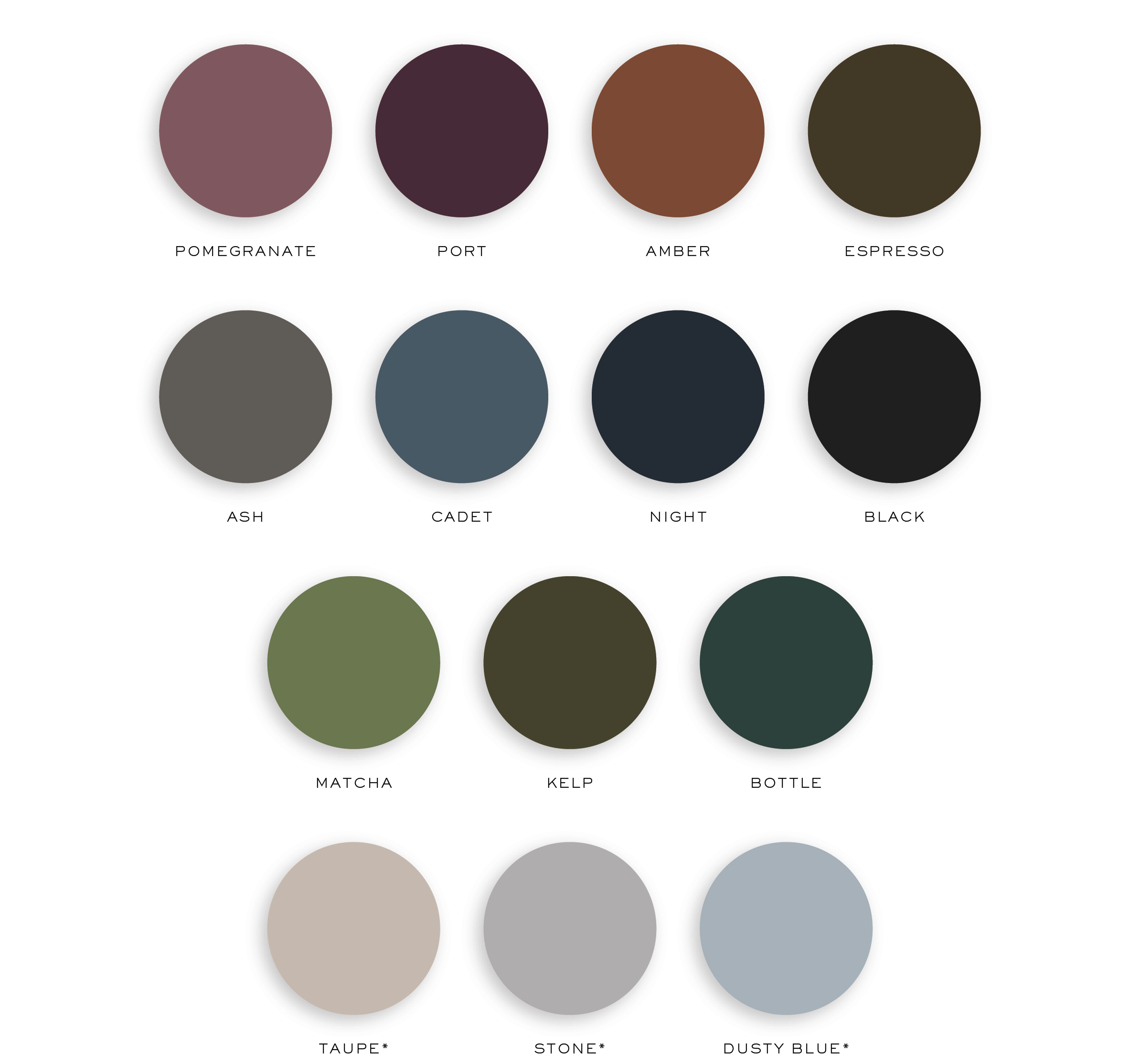 Our Sample Kits are the next best thing to sitting down at a meeting with us; they allow you to touch and feel everything in person, and spread out all of your paper options across a table.
Each Kit includes generously-sized swatches of all of our available envelope and card stock colors, as well as samples of each of our print methods and embellishments. The cost of your Sample Kit can be applied towards your purchase.
Embellishments & Upgrades
We offer a wide variety of Embellishments to adorn and accessorize your Collection pieces. These can be mix-and-matched for further customization:
DIGITAL GUEST ADDRESSING
WAX SEALS
ENVELOPE LINERS
SILK RIBBON
TWINE
VELLUM WRAPS (PLAIN AND PRINTED)
BELLY BANDS
Our À La Carte Collection Upgrades can be added to your order, or purchased after your order has been placed:
CUSTOM PAPER/INK/EMBELLISHMENT COLORS
DO I GET TO SEE THE DESIGN BEFORE IT IS PRINTED?
Design proofs are not sent until after purchase. After purchasing, we will create a PDF proof for you to see your design with all colors, wording, and embellishments. You will have the opportunity to make changes to your colors and wording after viewing your proof. Nothing is printed without your written approval.
WHAT CAN BE CUSTOMIZED?
These designs are printed as-is and are not customizable except for specific wording information, font choice, and the options specific to each product listing. One round of revisions to your wording/colors is included with your Ready-Made Collection order (for a total of 2 proofs). For additional customization options, please visit our À La Carte design upgrade options here.
CAN I CHOOSE A DIFFERENT PAPER COLOR/INK/FOIL THAN IS SHOWN IN THE OPTIONS?
In order to provide you with a streamlined and efficient service, our options are fixed for each piece. We offer additional options as part of our Custom Color Curation upgrade here.
CAN I SWITCH FONTS?
We offer complementary font switches between collections as part of our Font Changes upgrade here.
CAN I CHANGE THE LAYOUT (FOR EXAMPLE: CENTERING OR LEFT-ALIGNING ALL OF THE TEXT)?
At this time, layout changes cannot be made within our Ready-Made Wedding Collections. We offer complementary font changes here (for example: to use the Tivoli Collection fonts in the layout of the Palermo Collection)
CAN I ORDER THIS PIECE PRINTED ON HANDMADE/DECKLED-EDGE PAPER?
Because of the nature of handmade paper, colors/textures/availability are ever-changing, which requires us to work closely with both our makers and clients to curate materials especially for them and their timeline. At this time, handmade paper is only available at our discretion, and as part of our Color/Material Curation service. Click here for more information.
We have a fixed minimum order quantity of 10 per piece, and in increments of 10.
CAN I ORDER MORE THAN 150 SUITES?
Yes - for orders over 150, please contact us so that we can create a custom invoice for you. We will ask that you place your order for a quantity of 150, and after approving your final proof, we will send an invoice for the remaining quantity.
DO YOU ASSEMBLE EVERYTHING?
Unless purchasing an add-on which includes assembly, everything will arrive to you unassembled, unstuffed, and unsealed. Please refer to the individual add-on product listing for details on whether assembly is included. We also offer White-Glove Assembly as an upgrade here.
WHAT IF I NEED TO CHANGE MY QUANTITY OR ADD TO MY ORDER AFTER IT HAS BEEN PLACED?
As long as your order has not been approved and sent into production, you will have the opportunity to add an additional quantity or embellishments. However, you will not be able to reduce your quantity or remove embellishments.
CAN I SEE A PROOF OF MY DESIGN BEFORE I ORDER?
Because of the work we put into creating design proofs for our clients, we do not provide physical or digital proofs of your design before you order.
DO YOU OFFER INTERNATIONAL SHIPPING?
Currently, our website checkout only offers shipping within the United States. If you are located outside of the United States, we would be happy to create custom invoice for you. Please note that international shipping (via FedEx or DHL) will be billed separately, upon weighing the box of your final products.
CAN I ORDER A PHYSICAL PROOF OF MY DESIGN (INSTEAD OF A DIGITAL PDF PROOF)?
We do not provide physical proofs of your customized design. If you would like to see a physical proof of a design, we recommend placing an order of our minimum quantity (10).
WHAT IF I WANT TO CHANGE MY DESIGN AFTER I PLACE MY ORDER?
Please place your order carefully, as you will not be able to change your design choice (for example: switching from the Palermo Collection to the Siena Collection). Changing your design after your order will incur a Collection Change fee.
However, you do have one complementary round of revisions to your wording content and color choices, so don't worry about the color choices you make at checkout, as you'll have the opportunity to change them later, after seeing your first proof.
Don't know where to start? We're happy to help with questions on ordering, timelines, etiquette, and color suggestions.